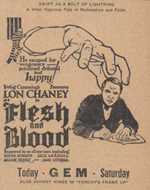 It is well-know for centuries that the aristocracy have little moods and bouts of indecisiveness; characteristics that are even more pronounced if those aristocrats are Germans (like this Count who besides being German is also Teutonic). Anyway, these contradictions assaulted this German Count while watching "Flesh And Blood," a film directed by Herr Irving Cummings in the silent year of 1922, starring the great Amerikan actor Herr Lon Chaney.
The film depicts the story of a poor lawyer ( first contradiction or a German pun? ), David Wester ( Lon Chaney ) wrongfully incarcerated for a crime he didn't commit, his conviction being the fault of a businessman, Fletcher Burton ( Ralph Lewis ) Wester escapes from jail to seek revenge on Burton.
However, aristocrat David Wester's vengeance is very soft and mild ( the convict will back down from his purpose for the sake of his daughter who is engaged to his enemy's son ) and because finally the stolen money will be used to build one of those Catholic ( not Lutherans ) missions and what's more, Wester's daughter does good works there!!… isn't that enough punishment?...
Another German contradiction for this German count is that even though Wester spent 15 years in jail unjustly, he finally will not be able to clear his name and will passively return to prison; This means the bad ones wins over the honest people; of course that's what may happen in real life, even in the aristocratic life…
Herr Lon Chaney plays one of those villains with a noble heart, a good and sensitive man, certainly but not very ingenious, because when he was hidden in Chinatown in order to go unnoticed he disguises himself as a cripple, a kind of contortionist in crutches instead of wearing one of those typical Chinese garments. The last German contradiction: the detective Doyle ( DeWitt Jennings ) only seems able to spot Chaney's accomplice, Herr Li Fang ( Noah Beery ).

And now, if you'll allow me, I must temporarily take my leave because this German Count feels contrary.

Herr Graf Ferdinand Von Galitzien


-/-


Es de sobra bien conocido desde centurias, que la aristocracia se caracteriza por sus caprichos e indecisiones, cuestiones éstas aún más acentuadas si hablamos de la aristocracia germánica, cómo, por ejemplo, bien le sucede a éste Conde que además de ser germano es también teutón…, en fin, clásicas contradicciones éstas que asaltaron a éste Conde germánico tras haber visto "Flesh And Blood", un filme dirigido por Herr Irving Cummings en el año silente de 1922, obra protagonizada por el genial actor americano Herr Lon Chaney.

El filme narra la historia de un pobre abogado ( ¿primera contradicción o juego de palabras germánico? ) David Wester ( Lon Chaney ) que es encarcelado de forma injusta por un crimen que no ha cometido, por culpa de un empresario de nombre Fletcher Burton ( Ralph Lewis ); Wester consigue escapar de la cárcel con el único propósito de vengarse de Burton.

Para este Conde germánico la venganza de David Wester es demasiado taimada y débil ( el convicto no llevará finalmente a cabo su propósito para salvar el matrimonio de su hija con el hijo de su enemigo ) aunque pensándolo bien como finalmente el dinero robado y por el cual fue encarcelado Herr David se empleará para la construcción de una de esas católicas, que no luteranas, misiones americanas, además de que la hija de Herr David trabaja allí, ¿acaso no es ese suficiente castigo para su enemigo?.

Otra germánica contradicción para éste Conde, es que a pesar de que Herr Wester se ha pasado quince años en prisión de forma injusta, finalmente el susodicho no restituirá su honor y de forma complaciente volverá a prisión, esto es, confirmando finalmente que los malos siempre triunfan sobre los buenos, un hecho éste real como la vida misma, incluso la aristocrática…

Herr Lon Chaney interpreta a uno de esos villanos de buen corazón, un hombre sensible aunque no demasiado ingenioso, ciertamente, pues durante su estadía en Chinatown tras salir de la cárcel, no se le ocurre mejor forma para pasar desapercibido que disfrazarse de lisiado, un especie de contorsionista con muletas, en vez de llevar uno de esos típicos trajes chinos, por no mencionar ( última contradicción germánica ) que el detective Doyle ( DeWitt Jennings ) no se da cuenta de nada y solamente tiene ojos para el cómplice de Wester, Herr Li Fang ( Noah Beery ).

Y ahora si me lo permiten les tengo que dejar momentáneamente, pues este Conde germánico se halla con su espíritu de contradicción.

Herr Graf Ferdinand Von Galitzien