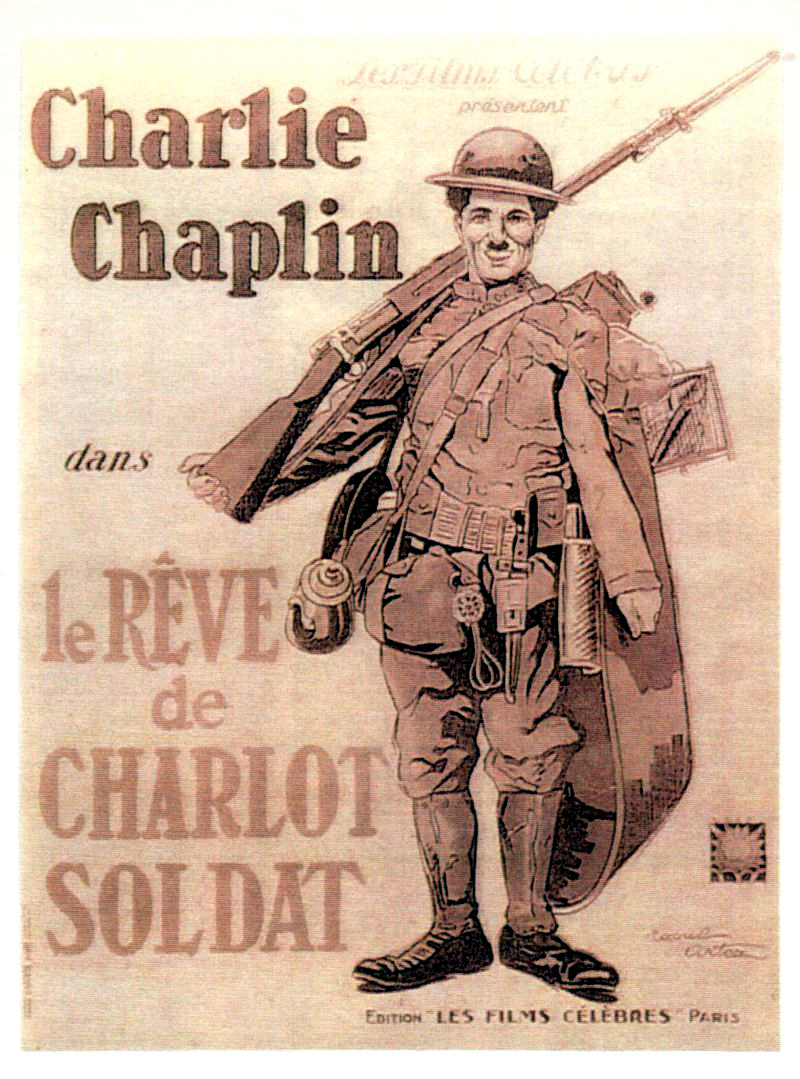 In these modern times (as subject known quite well to the director of the short film that this German count is going to talk about…), politically correct films are the "leitmotiv" of the modern young filmmakers' projects. "Shoulder Arms" directed by Herr Charlie Chaplin during WWI (the film was released only a few weeks before the armistice) is an obvious example of why the early cinema pioneers were a very bold people, certainly!
To direct a humorous film inspired in the terrible, bloody First World War was a complicated matter that only few directors with those dangerous and daring ideas could be allowed to do… to venture upon such delicate enterprise and with success was reserved only to geniuses.

As this German count said, "Shoulder Arms" was made during WWI, that time in where definitely the whole world lost its innocence (fortunately not the German fat heiresses of this aristocrat…) and it is a hilarious, inventive social satire about that and any war.
The film it is full of great gags and entertaining film continuity for a story in where that tramp will live though risky and courageous adventures in the front …whether a hero for the allies… or not.

To mock the war trenches, the unhealthiness, the frontal attacks and the Germans (how you dare!!... by the way, there are a lot of inaccuracies in the film … the German soldiers by that time had moustaches and longer beards not to mention that the Kaiser lacks many medals in his uniform…) in an elegant, funny and delicate way it is even today a film miracle impossible of being surpassed. Keeping in mind those terrible wartime circumstances, the difficult task is only possible thanks to a lot of creativity and talent. Obviously Herr Charlie Chaplin had very much of it.

And now, if you'll allow me, I must temporarily take my leave because this German Count must go back to the Schloss trenches.
Herr Graf Ferdinand Von Galitzien
-/-
Durante estos tiempos modernos ( un asunto del cual el director del cortometraje que este Conde germánico va a comentar, conoce muy bien… ) en el que lo políticamente correcto es el "leitmotiv" de la mayoría de los proyectos cinematográficos melenudos, "Shoulder Arms", filme dirigido por Herr Charlie Chaplin durante la primera guerra mundial ( el filme fue estrenado solamente unas semanas después del armisticio ) es un
claro ejemplo del porqué los pioneros de la historia del cinematógrafo eran desde luego, entre otras cualidades, una gente pero que muy atrevida.
Y es que para dirigir un filme humorístico inspirado en la terrible y sangrienta primera guerra mundial, era un complicado asunto solamente accesible para unos elegidos directores, pues aventurarse a desarrollar tan peligrosas y especiales ideas y además con éxito, era una delicada empresa reservada solamente para genios.

Como ha comentado recientemente este conde germánico, "Shoulder Arms" fue realizada durante la primera guerra mundial, una época en donde el mundo perdió definitivamente su inocencia ( no así, afortunadamente, las gordas herederas germánicas de éste aristócrata… ) y es una hilarante, ingeniosa sátira social acerca de esa y todas las guerras; el filme está repleto de memorables gags además de poseer un ritmo muy entretenido en el cual el vagabundo protagonista vivirá arriesgadas y valerosas aventuras en el frente, convirtiéndose en todo un héroe para los aliados, o quizás no…

El reírse de la guerra de trincheras, la insalubridad, los ataques del frente e incluso de los germanos ( ¡cuanta insolencia!... además el filme incluye numerosas inexactitudes al respecto tales como que por aquella época los soldados germánicos tenían bigotes y barbas más largas además de que al Kaiser le faltan muchas medallas en su uniforme.. ) y contarlo de una forma elegante, divertida y delicada, es casi un milagro difícilmente superable incluso hoy en día, si se tiene en cuenta las terribles circunstancias que rodearon esa contienda mundial, una dificilísima tarea solamente posible si se tiene mucho talento y creatividad y obviamente Herr Chaplin poseía muchísimo de eso.

Y ahora si me lo permiten les tengo que dejar momentáneamente pues este Conde germánico tiene que volver a las trincheras del Schloss.
Herr Graf Ferdinand Von Galitzien