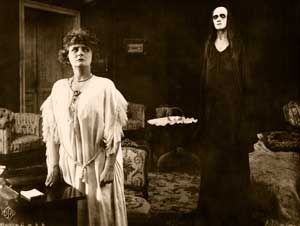 Continuing with these typical Christmas silent films, this German count last night screened at the Schloss theatre, "Hilde Warren Und Der Tod", a film directed by the great Austro-Hungarian director Herr Joe May and written by the well-known- and equally Austro-Hungarian-Herr Fritz Lang, so last evening was a totally Teutonic night at the Schloss.
The collaboration between those two Austro-Hungarians was complicated, even tormented during those early years; Fritz Lang worked for Herr May as a screen player but he always complained that his work wasn't properly credited or, as what happened with Joe May's "Das Indische Grabmal" (1921), he was not allowed to direct a film that had been promised to him ( at the end of his career, Herr Lang will direct finally a colourful and bad talkie remake of that film ).
"Hilde Warren Und Der Tod" depicts the Teutonic story in which Death sometimes pays a visit to Dame Hilde Warren,, a celebrated actress, in order to invite her to the ultimate voyage. Hilde, however is fond of the good things in life, especially groceries ( the latter is easily deduced by the sight of her zaftig German figure ).
She rejects the love of Hans von Wengraf, a theatre director, but instead falls in love with a longhaired youngster, Hector Roger, and she ends up marrying him. But Herr Hector is a bandit and he will be shot by the police for holding up a bank; later Dame Hilde will find that her Germanic womb is nurturing the child of a murderer.
Death reappears and renews his invitation but Hilde, decides to bring life to her child . Von Wengraf later reappears and still wants to marry her but under the condition that Dame Hilde must leave her child but our heroine refuses the offer and devotes herself to being a good mother.
The child of Hilde grows to adolescence and becomes just like his father; that is to say: a criminal and an assassin. Just before the police come to arrest him, her mother kills him and is sent to the jail; in there once more the Death appears and offers her consolation and relief; Hilde this time cannot refuse.
The film stars Dame Mia May who does her best( which is not enough, alas) to play the afflicted and tormented woman. Some of the longhaired set have said that Herr Lang himself played Herr Death but this doesn't seem to be true( whoever did play the part did not look at all well… ).
There are obvious similarities in this Lang story to his later film "Der Müde Tod" (1921), a film that shares with "Hilde Warren…" the subject of the impossibility of their main characters to avoid their cruel destiny. The treatment seems frivolous in the May film ( due to the scenario and the settings ) but there is sometimes the same dark atmosphere, especially in the last part of the film.
And now, if you'll allow me, I must temporarily take my leave because this German Count is trying to get into the Christmas spirit thanks to these Teutonic films.
Herr Graf Ferdinand Von Galitzien
-/-
Prosiguiendo con éstos típicos filmes navideños teutones, éste Conde germánico proyectó la pasada noche en el teatro del Schloss, el filme "Hilde Warren Und Der Tod", una obra dirigida por el gran y austro-húngaro director Herr Joe May y escrita por el conocidísimo y también austro-húngaro director Herr Fritz Lang, por dichos motivos la pasada noche, fue una auténtica noche teutónica la del Schloss.

La colaboración entre esos dos austro-húngaros fue bastante complicada, tormentosa incluso, durante esos años primerizos; Fritz Lang trabajó a las órdenes de Herr May como guionista pero el susodicho siempre se quejó de que su trabajo no recibía el suficiente reconocimiento o, como aconteció con el filme de Joe May, "Das Indische Grabmal" (1921), no le fue permitido dirigir originalmente dicha obra cuando era él quién originalmente debía hacerlo ( lo haría al final de su carrera, dirigiendo una versión colorista, sonora y mala del original silente ).

"Hilde Warren Und Der Tod" muestra una teutónica historia en la cual la muerte de vez en cuando le hace una visita a Dame Hilde Warren, una famosa actriz, pues le gustaría invitarla a que la acompañase a ese último y definitivo viaje; Hilde, sin embargo, gusta de la buenas cosas que ofrece la vida, especialmente los comestibles, fácilmente deducible ésta aseveración germánica por su oronda y teutónica figura.
Hilde también rechaza el amor de Hans von Wengraf, un director teatral, enamorándose sin embargo de un joven melenudo de nombre Hector Roger, con el cual acabará casándose.
Pero Herr Hector es un delincuente y este será tiroteado por la policía tras haber asaltado un banco; más tarde Dame Hilde descubrirá que su germánico seno está engendrando el hijo de un asesino.
La muerte se le aparece de nuevo a Hilde y renueva su invitación para que la acompañe, decidiendo finalmente dar a luz a su vástago; von Wengraf también reaparecerá mostrando su interés por casarse con la susodicha aunque con la condición de que Dame Hilde debe abandonar a su hijo, rechazando nuestra heroína dicha oferta, entregándose en cuerpo y alma a ser una buena madre.
El hijo de Hilde, ya mayorcito, cada vez se va pareciendo más a su padre, esto es, todo un criminal y un asesino y justo antes de que la policía lo arreste, su madre decide matarlo.
Hilde será enviada a la cárcel y sería allí de nuevo en donde la muerte se le aparece ofreciéndole consuelo y alivio , no pudiendo rechazar ésta vez Hilde dicha oferta.

El filme está interpretado por Dame Mia May que hace lo que puede ( lo cual no es mucho, lamentablemente… ) por interpretar a esa afligida y atormentada mujer e incluso algunos melenudos mantienen que el mismísimo Herr Lang interpreta a Herr Muerte aunque esto no parece del todo cierto ( sea quién sea el intérprete, desde luego se le ve muy desmejorado… ).

Hay evidentes similitudes entre esta historia escrita por Herr Lang y su posterior filme silente "Der Müde Tod" (1921), una obra que comparte con "Hilde Warren…" el tema de la imposibilidad de sus personajes por evitar su cruel destino; el tratamiento de la historia parece algo frívolo en la película de Herr May ( más que nada por el ambiente y desarrollo del guión ) aunque de todas formas se transmite al espectador una atmósfera opresiva especialmente hacia el final del filme.

Y ahora si me lo permiten les tengo que dejar momentáneamente, pues este Conde germánico está intentado imbuirse del espíritu navideño gracias a éstos filmes teutónicos.
Herr Graf Ferdinand Von Galitzien