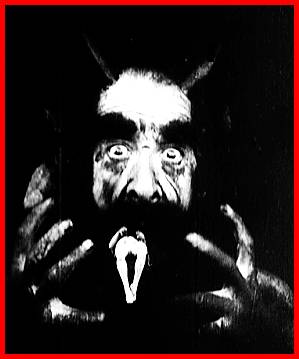 "L'Inferno" is well known among the German aristocratic silent film connoisseurs to be one of the earliest films in history based on Dante's "The Divine Comedy" ( well, to be more Germanic, this Italian film takes only the "Inferno" portion of the oeuvre ) and the first full-length Italian film.

The film ( codirected by three unknown longhaired Italians, Francesco Bertolini, Adolfo Padovan and Giuseppe de Liguorno ) is a delightful and enchanting primitive film overall for its romantic and evocative special effects, the most interesting and accomplished aspect of this film ( skillful and very original, those special effects ( double exposures, visual effects ) use the most innovative techniques of the time, creating different and haunting sceneries that fit very well for the different passages or Hell circles ), which are based on the artwork of Herr Gustav Doré; probably for this reason and keeping in mind that we are talking about a film of the early 10's and not a Danish one…, the film is a consecutive show of beautiful postcards but static ones, stage designs in which Dante is led by Virgil through the underworld, very imaginative and even mysterious shots but emphasizing its scarce cinematic techniques.

It seems that the underworld is a crowded place because Dante finds a lot of people there, from friends ( or whatever remains of those poor people ) to historical personages, and due to the high temperatures that people in hell suffer, they go naked from one place to another; a very complicated subject because aristocrats need always to be decent and elegant, wearing smokings and tuxedos ( even in Hell ), not a simple and ordinary loincloth.
Besides the great sufferings seen throughout the underworld there is another and new one: a terrible modernized score composed by the longhaired band "Tangerine Dream" and specially for this silent film restoration that is more terrible and horrible than the tormented souls of the dead, the swamp of the Styx, the river of filth or Lucifer himself in comparison with such hellish music.

And now, if you'll allow me, I must temporarily take my leave because this German Count must take a ride in hell, a very exciting and funnier place than heaven.
Herr Graf Ferdinand Von Galitzien
-/-
"L'Inferno" es un filme célebre entre los connoisseurs silentes aristocráticos y germanos, por ser uno de los primeros filmes en la historia basados en la obra de Herr Dante "La Divina Comedia" ( aunque para ser más germánicos, éste filme italiano toma solamente la parte del "Inferno" de dicha obra ) además de ser el primer largometraje italiano de la historia.

La película ( codirigida por tres desconocidos melenudos italianos, Francesco Bertolini, Adolfo Padovan y Giuseppe de Liguorno ) es un delicioso y encantado filme primitivo, sobretodo por sus románticos y evocativos efectos especiales ( dobles exposiciones, trucos visuales ) usando las más novedosas técnicas de la época, creando con todo ello diferentes e inolvidables decorados que encajan perfectamente para los diferentes pasajes que acontecen durante los pasajes del infierno, basados éstos en las ilustraciones de Herr Gustav Doré; probablemente por ésta razón y teniendo en cuenta que estamos hablando de un filme de principios de los años 10 y no de una obra danesa… el filme es una muestra consecutiva de bellas, pero estáticas postales, decorados por donde Dante es llevado por Virgilio a través del infierno, muy imaginativas e incluso misteriosas secuencias pero destacando esa carencia de técnica cinematográfica.

Para ser que el infierno es un lugar repleto de gente pues Dante encuentra allí a un montón de conocidos, desde amigos ( o lo que queda de esa pobre gente ) hasta personajes históricos y debido a las altas temperaturas que la gente sufre en el infierno, van desnudos de un sitio para otro, una cuestión ésta muy embarazosa pues los aristócratas necesitan siempre estar decentes y elegantes, llevando smokings o fracs ( incluso en el infierno ) y no un simple y ordinario taparrabos.
Además de los grandes sufrimientos que se pueden ver en dicho infierno hay otro añadido y novedoso: una terrible y moderna banda sonora compuesta por una banda melenuda, "Tangerine Dream", especialmente para la restauración de este filme y que resulta ser más terrible y horrible que todas las almas atormentadas de los muertos, la ciénaga de la Estigia, el río de la inmundicia o el mismísimo Lucifer juntos, en comparación con semejante música infernal.

Y ahora si me lo permiten les tengo que dejar momentáneamente, pues este Conde germánico tiene que ir a cabalgar por el infierno, un lugar mucho más divertido y excitante que el cielo.
Herr Graf Ferdinand Von Galitzien